What's Inspected During A Home Inspection
Included in the inspection are areas related to safety and structural integrity. A complete list of the Standard Operating Procedures we follow can be found on the InterNACHI web site, at nachi.org.
We inspect;
Basement, Foundation, Crawlspace & Structure
Attic, Insulation & Ventilation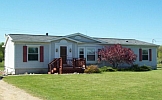 Foundation Inspections:
We have partnered with Harrison Engineering to provide certified foundation inspections for manufactured homes that many banks require before financing. Click this link to order your foundation inspection today.
http://www.FoundationCerts.com/order
Bookmark/Search this post with